Your Legacy Club Scam Review. Legacy of an Scam Artist
This one showed up in my junk mail from a so called "Bill O'Doherty". I always take a quick look before deleting mails in my spam folder because I don't want to accidentally remove something important that ended up in there. Amidst all the junk, this one caught my scam exposing eyes. Let's start with a few words taken from the email itself before I move on to putting the kibosh on this obvious marketing scam!
Taken from the email:
"Bill O'Doherty will take all his knowledge and put it in your hands, showing you how to turn a minimum investment of $250 into $10,000. For this initial investment, Bill will match you dollar for dollar. Therefore, an investment of $250 will also see Bill adding $250 of his own money to your account. You will trade with this account under Bill's guidance to get to a level of $10,000. At this juncture, you are to return Bill's initial $250 and keep $9,750."
Sounds pretty good right? Who wouldn't want extra money to trade with? The thing is, it sounds too good, and too good to be true usually is.
The Legacy Club with O'Doherty
What do you do when someone promises you that you can turn 250 dollars into 10K? Yes, that's right, you run away! So this Bill guy is going to match our investment, hmm doesn't that sound really really like a broker bonus? Okay, first of all, who the hell is Bill and why should we trust him? Oh, because there are pictures of him doing different "important stuff" like; standing next to a Rolls-Royce, pretending to live in a luxury villa, talking to some guys in suits and signing books. Haha! Okay, got to give it to him, the book signing was new to me and looks kinda legit but in the end is just one more trick of a shady marketer.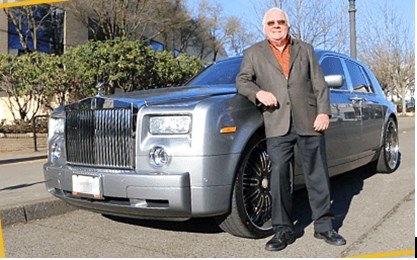 Nice Car! Hurry, take the picture and run before the REAL owner shows up!
Below the pictures, it says: "Sounds too good to be true?". No, to be honest, it sounds way too similar to every other scam I have reviewed lately and the script is therefor too common to be true. You know what I'm talking about: "the rich guys have secrets that the poor don't know about and how I will share it just because I want you to give money to charity or just because I am a nice guy or in this case, because I want this to be my legacy".
The Bonus Trap – a Scary Legacy!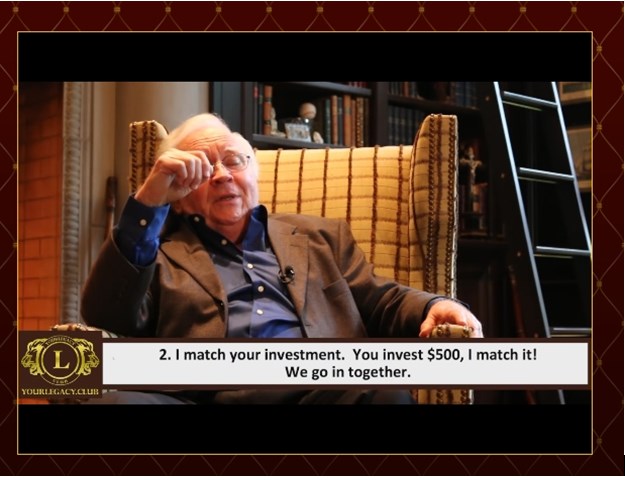 'I match your investment' means that the scam broker he will send you to will give you a bonus which in turn will lock your money for good. What? Don't tell me you actually thought he was going to deposit his own money with a scam broker?
He claims he will match 100% of your deposit. Tell me again how is that possible? How does he have access to your binary options broker's account? But wait, what was that now, did he just say "broker bonus"? In case you are new to binary options and don't get it, let me break it down for you. You make a deposit with the "approved" broker (Bill gets the affiliate commission) then broker will give you a bonus. To put it simply bonus money ties up your deposit and now you can't withdraw your money or any profits, if you are lucky enough to make them.  Get it?
See for yourself:

Aaaaah, told you! It's the good old bonus trap! And he used the magic word too… MAGIC..
The worst part is that his "system" will deplete your account and instead of the nice grandpa Bill, some account manager will call you and try to get you to deposit even more money.
Scam Spam – Time to unmask the "perps"
In order to expose more of the scam I always register with a fake account to see who's behind it. What I usually do is use the email of another scammer, just so that their own email accounts get flooded with the same crap they like to send out.

First off what I see is a very common tactic, they say only 37 spots left. Doesn't that sound awfully familiar to the previous scams we have exposed here? Remember Google Trader, Virtnext, Binary Profi, Profit Maximizer, Quick Cash system  and the rest? Yes, same pitches, same scam but different names. Moving on to revealing the broker; it turns out the partner in crime is IvoryOption. As usual, I am not surprised at all. This broker is very new and unregulated, and at the heart of a number of previous scams. Now let me ask you something, do you really want a 100% bonus with them? The required volume you need to generate before you can make any withdrawals is 30 times each dollar of bonus. A 250$ bonus equals a turnover of 7500$. With a regulated broker that offers a decent bonus policy, a bonus can be a good thing and may even allow withdrawal of profits before turnover is completed. However, if you are looking to accept a high bonus with an unregulated broker, read this first: Binary Options Bonus – Don't Get Too Excited!!
Create your own Legacy!
Don't hop on board someone else's scam to make their so called legacy by "donating" them your money for nothing. Do like we do, work hard and become a legend of your own! Learn how to trade using our binary options school.
Anyone can learn to trade if they commit. Only a fool would think that you can make easy money with some "secure system" without any effort. If that were true wouldn't everyone be rich?  Me, my colleagues and our forum members in CommuniTraders find and share scams similar to the Legacy Club all the time. We share, discuss and make fun of them here: Make Easy Money Exposed.