Approved for Advanced Traders
Custom Indicators – Full Review of the News Indicator for Binary Options
News Indicator: An informed trader is a better trader.
Now that we survived the end of the world and Binary Options are still available we must look ahead and try to improve our trading. To do that, we must focus on both the technical and the fundamental aspect of the market. Since we've been focusing a lot more on the technical part of trading, I figured it's time to spend some time on the fundamental side as well. With this in mind I started searching for something to help us with the news that are about to be released, because a fundamental development can overthrow any technical scenario and just like I wrote in the title, an informed trader is a better trader. Let's get down to business and learn how to use the new custom indicator
How to use the News Indicator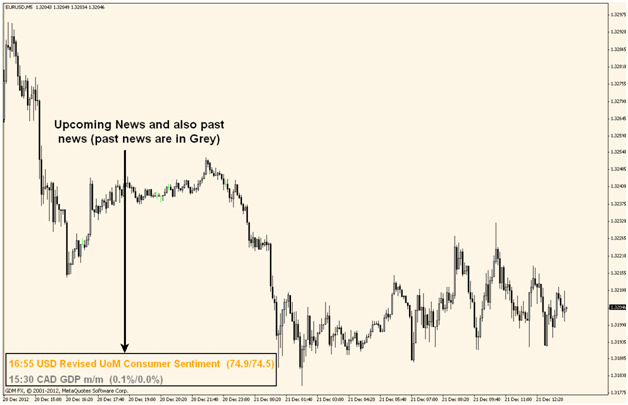 When I took the picture this was the only data that was coming out for the remaining of the day, but usually there are a lot more events listed there. Since my time machine is broken and needs fixing, this is the best I can do, but do not worry; it will update itself and announce you in advance when news is due for release. The best part is that it even has an alarm that goes off 10 minutes before the actual release and one that goes off 5 minutes before, just to make sure that you don't miss out on some important piece of information. Although this indicator doesn't show us clear direction, using colors or arrows, I consider it a great tool because I had quite a big number of trades that looked exceptionally from a technical point of view, but some important news that I wasn't aware of came out and price made a sudden move against me. Well, no more. Now all important events are displayed directly on my chart and at least I can stop trading until after the release.
Let's see how to install the custom indicator on a Meta Trader 4 chart. The steps are the same as the ones for the other custom indicators: download the indicator from the bottom of the page or from our Forum and copy it into the experts/indicators folder of your Meta Trader 4 platform. Full path should look similar to this: C:\Program Files\The Name of your MT4 Broker\experts\indicators. Once this is done, close and re-open your Meta Trader 4 platform and then click on Insert – Indicators – Custom – News Indicator. Now there are a few extra things that must be done before you can use it: once you follow the steps indicated above and you click on News Indicator, a box will pop up with some settings that need to be adjusted. The first and most important thing we must do is to tick the "Allow DLL imports" option. If you don't do this, the indicator will not work. Check out the picture below: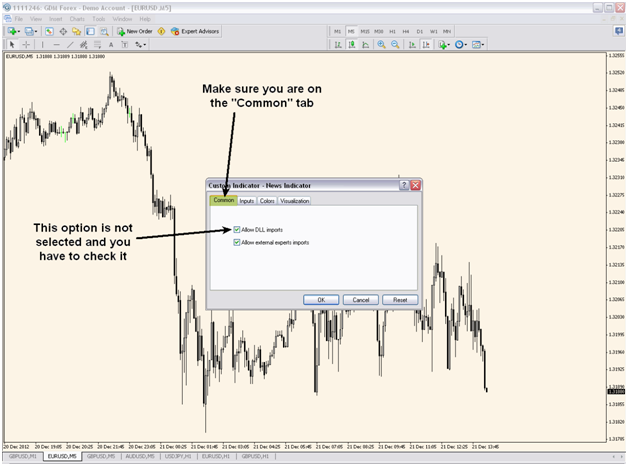 Now we will move on to the "Inputs" tab and there are two things that need to be taken care of: the first is related to the font size. For me the default size of 6 is too small and I use 10 or even 15 because I really don't want to stare at the monitor guessing what the next event will be. Here's the picture: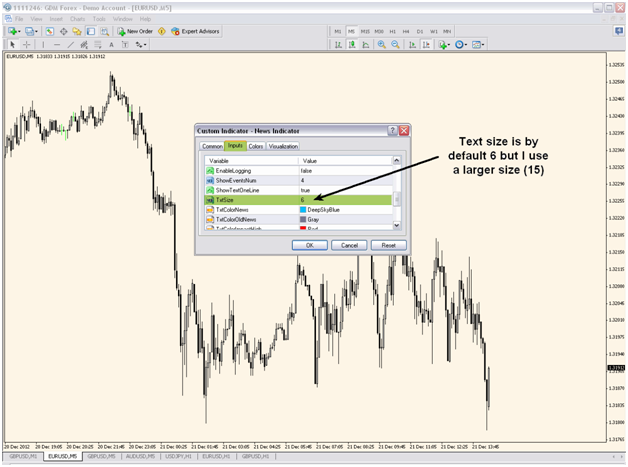 Ok, one more and I promise we're done guys. The last thing we have to address is the source of the data that is being displayed. I prefer to not use the data source that is set by default and I just set it to "false", but feel free to experiment with it if you want. To do this, scroll further down, click on the "true" setting and a drop down menu will appear; choose "false". Another source for the data will be automatically used. Here's the explanatory picture: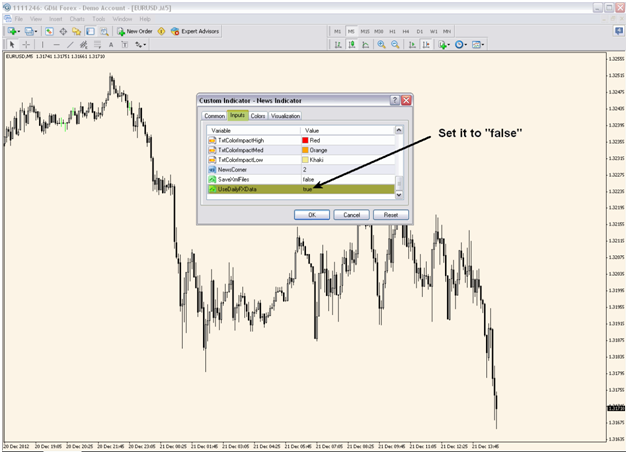 That's about it guys. The settings about the data that is being displayed and the font size are optional and the indicator will work even if you don't change them, but the "Allow DLL imports" option has to be selected for the indicator to display any data.
Why does the "News Indicator" Suck?
The first thing that comes to mind is the fact that it is kind of hard to install and set up, but hey, money making is not easy, right? And besides, once you set it up, you don't have to repeat the procedure, unless you uninstall your Meta Trader 4 or if other unexpected things happen to your computer. Another thing is related to the events themselves: sometimes it can be hard to analyze the potential impact on the market of a certain event and predict market direction based on that. But come to think of it, that has nothing to do with the actual indicator.
Why the "News Indicator" doesn't Suck?
I usually check different financial websites to stay informed about the upcoming financial and political events. With the help of this indicator, I can focus on trading alone, not on frantically looking for news that could potentially affect the market direction. The indicator displays high impact events in Red so you don't really have to understand the mechanics behind the events, just to be extra careful when you see a Red event coming up. Please don't understand that it is not important to know how fundamentals impact the market, but for a new guy it can be overwhelming. Believe me, I've been there and I know what I'm talking about.
Wrapping it up  
The fundamental aspect is paramount for trading Binary options on any market and my opinion is that a trader that is being serious about his trading career must be always aware of news and all events that can impact the market. Now what easier way is there than having all important upcoming events displayed directly on your charts? If you are not a hardcore fundamental trader it's easy to use by just avoiding to trade before high impact events. On the other hand, if you like to trade the news, you don't have to search for them anymore because you have them right on your charts. I want to end this article by saying a big "Thank You" to the guy that coded this free indicator, although I don't know who he is.
Click Here to Download the News Indicator

Keep Discussing the News Indicator with Bogdan and more Traders on our Forum!