Use the Force Indicator Luke!
Full Review of the Force Indicator for Binary Options Trading
The Force Indicator is no Jedi mind trick. This indicator is a good way to measure force and momentum of price movements.
What Is the Force Indicator?
The Force Indicator is a method of interpreting stock price movement developed by Dr. Alexander. I highly recommend reading his book "Trading for a Living" if you haven't already. It is the story of a Russian defector coming to America and becoming a successful market speculator. In the book he unveils the secrets to his success; Elder Rays and the Force Index. The Force Index is an oscillator that trends in a range over and under 0. It utilizes price movement and volume to determine the power and momentum present in the market. Dr. Elder assumes that there are three basic elements to an asset's price movement; direction, extent and volume. His indicator measures that power and can be use to identify trends, predict corrections and identify reversals.
The Force Index should be a standard indicator on most charting packages. See Download Below.
How Does the Force Indicator Work?
The formula for this indicator is simple and easy to use. Simply subtract yesterday's closing price from today's to get direction and extent. This is represented by a positive or negative number. Multiply the result by the volume to get F1.   Then to create the oscillator plots a moving average of the results. Dr. Elder suggests a 13 exponential moving average to start. After you get familiar with the Force Index you can adjust the length of smoothing to fit your trading style. A longer period equals a longer term signal when interpreting the index.
When price advances from one day to the next it creates a positive reading. Days with smaller movements and lower volumes have the weakest force. Days with larger price movements and higher volume have stronger force. The Force Index can confirm trends with convergences and then give off trend following signals. Trend following signals include zero line crossovers and zero line bounces. It can also predict reversals and corrections through divergences. This force is displayed on the oscillator like this:

Why the Force Indicator Does Not Suck
This indicator does not suck. This indicator utilizes price, direction and volume to measure momentum in an easy to understand format. The Force Index is a versatile tool that traders of any level can apply. The indicator is a good trend supporting indicator and can be used reliably, especially when used in multiple time frames. Like all my favorite indicators, this index can be used on weekly, daily and shorter term charts. It can also be adjusted easily to better fit other signals you are trading. Not all technical indicators respond well to modification. In addition to its use as a trend following device it is also useful in predicting potential tops. This index produces divergences similar to MACD. The big difference is that based on the chart displayed here the Force Index signals are a day or two earlier than the MACD.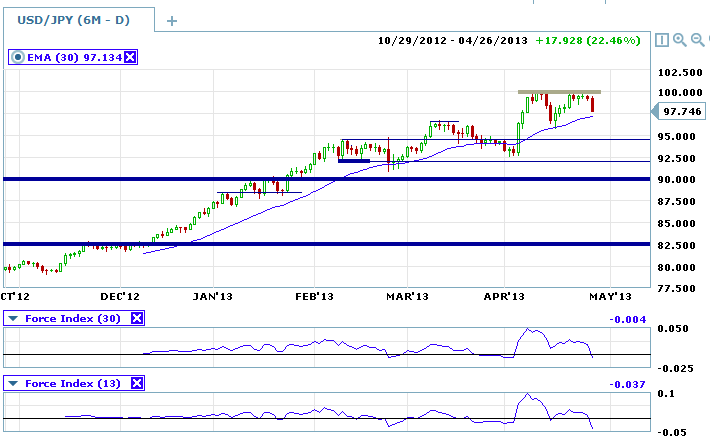 Why This Indicator Sucks
This indicator sucks because I can't think of a legitimate reason why it could suck. Of course it comes with the usual caveats as any other reliable signal. No indicator is infallible, false signals and losses are sure to be generated. However, that being said, there is not much to dislike in this indicator. It uses good data in the formulation, it creates easy to read signals and it is as reliable as any other indicator I use. I don't currently use the Force Index but it could easily be slipped into my tool box in place of MACD.
My Last Words on the Force Index for Binary Options
I would indeed use the Force Index. It is a good tool and one that comes with an added bonus. The Force Index is also a great tool for predicting volatility. When a stock is trending quietly or moving lazily within a range it will produce a relatively flat line. When activity begins to pick up in the form of volume or average daily range then the index will show it. I recommend the Force Index for newbies and experienced traders. It is easy to use, good for newbies, and a tool that a binary options strategy can be built around. It is also a great addition to any current strategy as a momentum oscillator, divergence or volatility indicator.
Download Force Index Indicator
Find more Info on the Force Index Indicator on Forum!