CommuniTraders Social Trading Plaftform Launches v2.0!
Social Trading Binary Options has Arrived!
OK, OK, I know you may have heard of social and copy trading before. It's nothing new and has been growing in popularity amongst Forex traders for years. Now those same companies are coming after us, binary options traders. The thing is, social trading networks like Etoro, Zulutrade, Currensee and others are nothing more than copy trading websites, for good or for bad. Sure, you get to follow traders who post great results but when the day is over and the accounts are settled what are you left with? Nothing really, profits and losses are fleeting, they come and go like the tide itself. When you copy trade you are relying on someone else and not learning how and why to trade for yourself. Blindly following another trader, even one with a great long term record of success, will only lead to failure if you then try to move out on your own. Of course, if you just want to be a copier that's fine too but I don't recommend it. There is no way to know that the trader you are following is really legit, or if they won't have a bad losing streak, or simply decide they are rich enough and stop trading. It is always better to learn to trade for yourself. If not then you may as well hire a financial manager with proper accreditation.
There is, however, an answer to the dilemma posed by the current social trading environment. An answer specifically for binary options traders. CommuniTraders Binary Options Social Trading Network. This is a social and copy trading platform designed by binary traders for binary traders. You can simply choose to copy trade but we prefer you to learn trading through our social network. This way you can, as a newbie, enjoy the benefits of learning from a great trader, not just their record of success. Or, as a more experienced trader, help the community while making some extra money.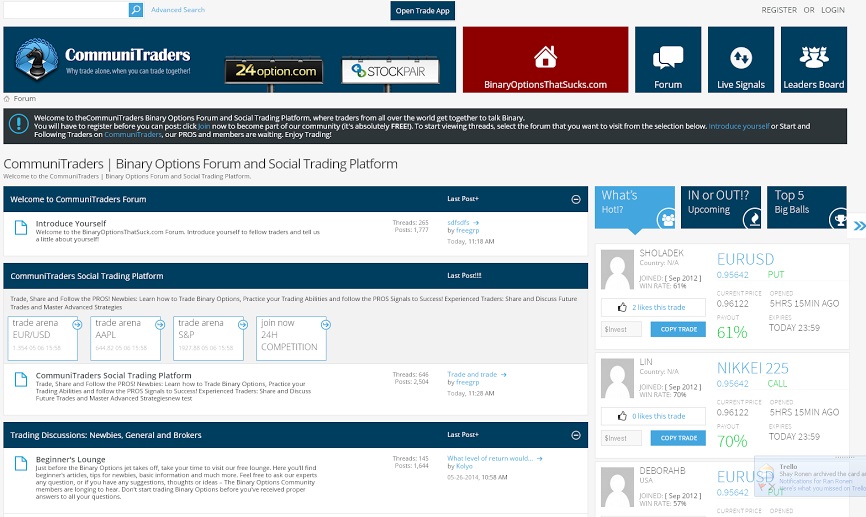 So, What Exactly Is CommuniTraders?
What makes CommuniTraders different from other social trading networks? Focus on education. This is a learning platform where traders can learn to implement trading tools or teach others how to use them. The platform is truly social, traders of all levels are encouraged to join in the discussions, share and follow trades. Newbies can learn, experienced traders can lead and popular traders can earn money when others choose to follow them.
CommuniTraders is a totally free, let me say that again, totally free binary options forum, demo account and copy trading platform. It's been up and running since 2012 and now the real thing has been unleashed. The whole thing is built on the V-Bulletin Forum platform because we know just how important connecting with other traders is to social trading. I mean seriously, without connections it's just not social is it. Membership is free, all you have to do is sign up to CommuniTraders and create a profile as following. This is how the Pros, Popular Traders and Members are able to meet and interact with each other. The forum itself is pretty good. There are always hundreds of users online at any given time chatting about different brokers, strategies, analysis, the economy and my favorite, exposing scams and scammers.
The real meat and potatoes of the platform though is the demo/social trading account. It is included in your membership and allows you to make and post trades or follow others posted trades. The trading is very simple, it is binary options after all. Click on the Trade&Share button and be taken to a world devoted to binary trading. Your profile includes a history of your trades, live and demo. It also includes a record of your success so that you can keep track of which trades or traders are working and which ones are not. When you become popular enough on a social and trading basis you can become a Popular Trader, build a following and make money when other traders copy you. Anytime you use the platform to make a trade you will be able to keep it to yourself, not recommended, or share it with others. When you share other traders will be able to ask you questions about your strategy, make comments on your analysis and copy them if they think it's a good one. This feature is called AutoCopy and if you haven't noticed something entirely different from the average run of "social trading" today let me spell it out for you.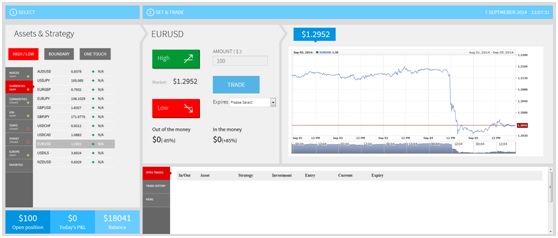 So Why CommuniTraders Does Not Suck?
CommuniTraders does not suck because you do not have to copy all of trader's trades. You can pick and choose which trades you copy. Most copy trading today is more like trading baseball cards. You pick a trader, if they are good you copy them. Your account makes all of their trades, losers and winners. You build a portfolio of traders, when one performs well you keep him and when one performs badly you dump them. This is not how CommuniTraders works. All trades are posted individually, listed individually and copied individually. If you find a trader who is good at face value but discover they are really good at the EURO and totally sucky at the Yen you can choose to follow only the EURO trades, pretty freaking cool.
Not a member yet? What are you waiting for?? Join CommuniTraders 2.0 Now!