Profit Maximizer Scam Review – Takes You Straight to Under the Yacht!
"I blinked twice just to make sure I wasn't hallucinating" – says the guy in the video on the Profit Maximizer's website. The pregnant wife came running to see what was going on when he screamed out of joy.  He was shocked when he realized his super-secret and 100% foolproof system made him lots of money in just minutes.  . . But that was then.  Nowadays they go yachting while making millions and if you don't believe him, he'll buy you a steak dinner! I would love to have that steak dinner right now because this whole story is of course just a pile of crap. What's that? We are not getting any steaks?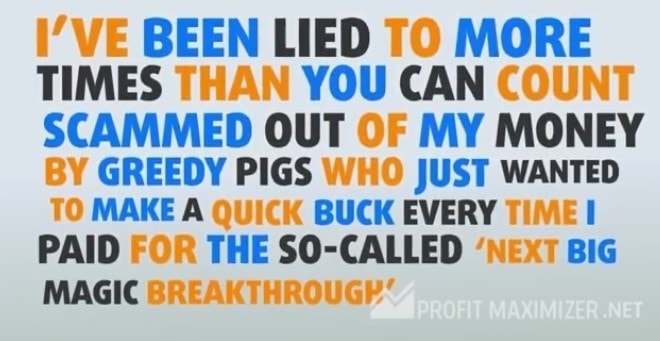 Sounds familiar? It should if you have read my previous scam review articles or if you have ever encountered a "get-rich-quick" website. The part in the video where he claims he is going to "respect our intelligence" by showing us his live bank accounts really got me laughing. As if you can't edit and Photoshop that. So much for respecting my intelligence. "The next big magic breakthrough"
The Profit Maximizer Scam Unveiled
When I watched the video I was expecting more money in the bank than just a couple million dollars but maybe that's just one account. I mean, owning a yacht is expensive and the maintenance, safety, insurance and the dockage itself can cost several hundred thousand dollars per year. Let that be a lesson for future scammers that have never owned a yacht, if you want to pretend you own luxury boats, you need to exaggerate those bank balances by way more than just a few million dollars. Do your research, only 5% of the 36 wealthiest in the US own a yacht, because it costs so damn much! If you can't respect my intelligence at least respect your own…
The basis of the system, he has found a secret loophole in binary options – something we've a million times already, one form or another. I tell you what it is: the secret loophole is to get people to deposit with a scam broker, have the auto trader blow their accounts quickly and earn your commissions, a strategy that only makes money for the scammers. Just have a few awful Fiverr actors create fake testimonials and hope people will buy it.
A common approach with these types of websites is that they claim the super-secret-loophole system is only available to a few, but don't worry, that's just a hook. Every time you go to the site it will tell you there only a few spots left, just to help tease the foolhardy into signing up. If you don't believe try it yourself or hit control F5 to refresh your browser.
Scam Spam – The Partners in Crime
This week on Okanes scam spam I have uncovered that the Profit Maximizer scam is working together with TitanTrade and GTOptions which is no surprise.  GTOptions is well-known by to us thanks to our binary options scam watch and scam reviews. They show up regularly whenever there are complaints. TitanTrade is another crooked broker and you might recall them from our April scam watch in 2015 together with GTOptions (yes them again). Profit Maximizer wants to send you to these two and claim you will get your withdrawals within 24 hours.

Of course I used a fake email address, one of the  ones I found on the site to be exact, in order to delve deeper into this scam.  After the registration they give you an annoying and pushy video that goes on and on about how you will miss your chance if you don't complete the registration and fund your account right now! In the end the Profit Maximizer is nothing new,  it's the same old method, the same old rip off system with the same old scam brokers.
Never Ending Scams
If you haven't already, make sure to read previous scam reviews and check the "make easy money exposed thread" in the forum.  I know that for some of you newbies, if you let desperation and greed take over, it's hard to believe that something is a scam. But once you have seen how similar all of these old and new scams are, most of you will learn how to avoid them, just like I did. The first rule, always do your research. Is it too good to be true and do they make ridiculous and exaggerated claims? If so then it is too good to be true.   Be smart, educate yourself about binary options and handle your own money by yourself.