End of 2015 Year Scam Watch – Time for the Scam Watch Awards!
Scam Watch Concludes the Year – The Scams, The "Awards" and Our Mission
The year is almost done now, people think about Christmas presents and New Year's parties, cinnamon scented wine and the Holiday spirit, but somewhere a scammer rubs his hands together, saying "It's been a good year!". I'd like to believe we've busted some of them, with your help of course, so let's take a look at the biggest complaints of this year, which broker had the most complaints and which broker didn't appear at all in our Scam Watch article, plus other honorable (or dishonorable mentions).
Highest Number of Appearances in Our Scam Watch: Top Spot Goes to LBinary
On the bottom of our review of this brokerage, you will find 11 pages of complaints (mostly) and I am sure the count will only go up if they don't start changing their ways. I have to mention that LBinary is NOT a Trusted broker by thatsucks.com and that we recommend extreme caution if doing business with them. Probably one of the biggest complaints about this brokerage comes from Erik, who wants to gather as many people as possible and start a coalition against them, so contact him if you haven't already. March Scam Watch

Dishonorable Mention: GTOption
This brokerage was promising at first, but soon fell under scam suspicions as more and more people started to complain. Serah lost money because of their account managers, reminding us once again that the owner of the account should be the only one trading that account. April Scam Watch

Lowest Number of Appearances in Our Scam Watch: Top Prize Goes to StockPair
This is one of our Recommended Brokers and I am happy to see they don't disappoint. They started strong and over time they confirmed again and again they are a reputable company that puts clients' best interests in first place. Kudos to you and don't disappoint us in 2016!
Honorable mention: Ayrex. This is a newer addition to our Recommended Brokers list, but so far they have been doing a great job, taking care of their clients in a professional manner.
Most Common Scam: So-called Account Managers with Fake Names Trade Your Accounts Without Permission
This has been one of the biggest problems over the last year or so. You open an account, fund it and then you see that trades are put on, money is lost, gained, then lost again… but you are not doing it, the account manager is. The representatives of your brokerage SHOULD NOT have access to your trading account. If they can open trades, it means they know your password or they have a way to bypass it and this means your money doesn't belong to you anymore. What is worse, sometimes people complain about their credit cards being charged without their permission, after they have given the details to the brokers. These are not isolated cases, it happens way too often and it's a major issue so I am sure in 2016 we will hear more of this problem. Just read Omkar's complaint below (taken from October Scam Watch):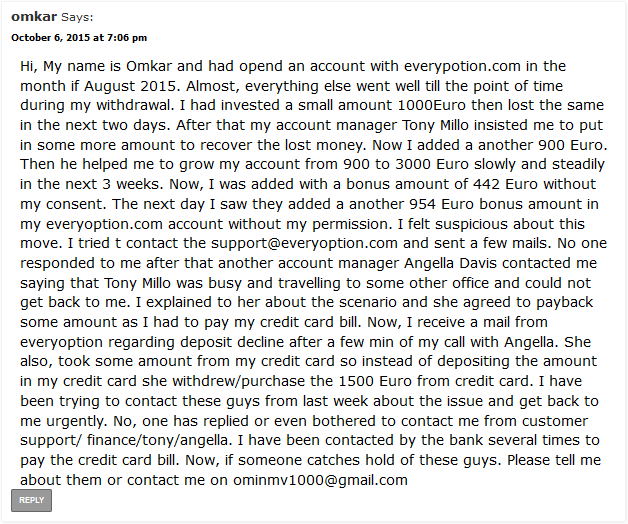 Dishonorable Mention: The Millionaire-Over-Night Scam
This goes like this: the potential client gets free access to an app/software/bot that will make him or her rich beyond imagination within a very short time. Basically you are poor, you get this app, go to sleep and wake up a millionaire. But there's a catch: to get the software you have to sign up with a brokerage (which is usually very shady) and when you realize the product doesn't perform as advertised, you cannot get your money back from the brokerage (or the money is already lost due to bad trading). We've seen this happen (with some changes here and there) numerous times but people still fall for it. Lino is one of them and unfortunately he is not alone. March Scam Watch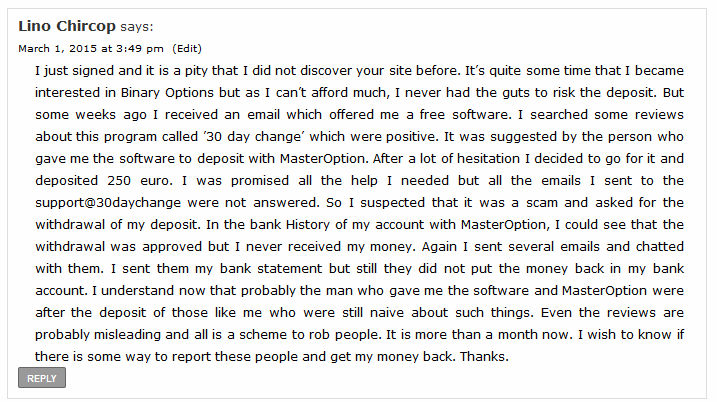 Worst Sales Tactic: Deposit More, More, Deposit Now!
This is something else that caught our eye during the last year: people want to try their luck with binary options by depositing 200 – 300 bucks but as soon as they leave their details the brokers star phoning them continuously, day and night, offering them bonuses, insured trades, "secure" investment advice, the Moon, the Sun… everything. The offers sound so good and the pressure from the phone calls is so big that the client eventually gives in and deposits a hefty sum, which is much bigger than what they initially wanted. September Scam Watch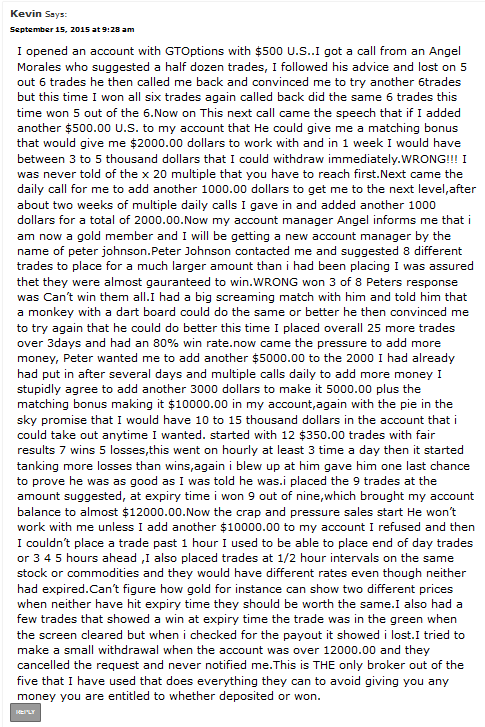 Biggest Amount of Money Involved in a Complaint/Scam: Option FM
This is quite a story and it involves cheap sales tactics, empty promises, people posing as experienced traders but ultimately all they want is to separate you from your money. Unfortunately this time we are talking about a quarter million US Dollars (!!!). I hope the client somehow managed to get his money back but we haven't heard from him. October Scam Watch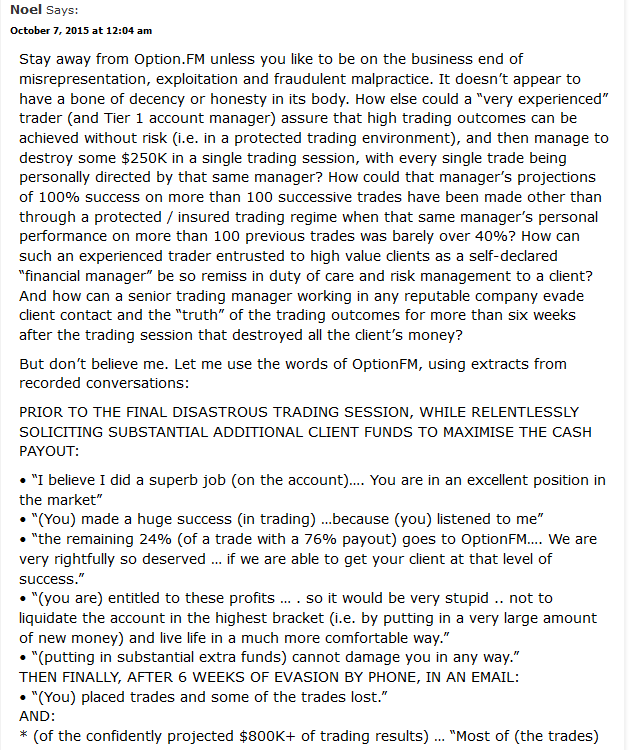 Dishonorable Mention: GTOptions
These guys persuaded a client to deposit 20,000 euros when initially he just wanted to deposit 250 euros. Honestly I cannot understand how that can happen, but it just goes to show how careful you have to be. Oh… and don't believe everything the broker tells you! September Scam Watch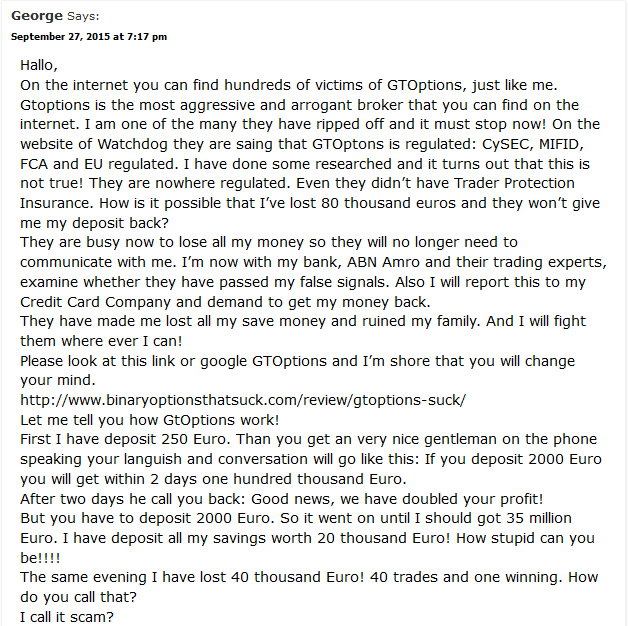 Special mention: There are scammers out there, no doubt about that but let's be honest, sometimes the clients just don't read the conditions they accept and then they complain about things that could have been easily avoided. It is well known that when you receive a Bonus, you have to reach a certain trading volume before withdrawing. If this condition wouldn't exist, I would deposit 10K today, receive a 100% Bonus and withdraw 20K tomorrow. Easy money! Well, it doesn't work that way and it's understandable why it doesn't, but some (like Andrew and Marek) still believe the broker is responsible for their lack of interest in knowing all strings attached to a Bonus. May Scam Watch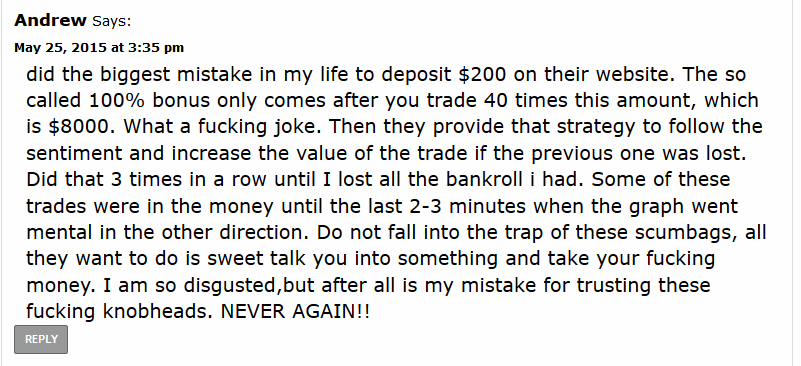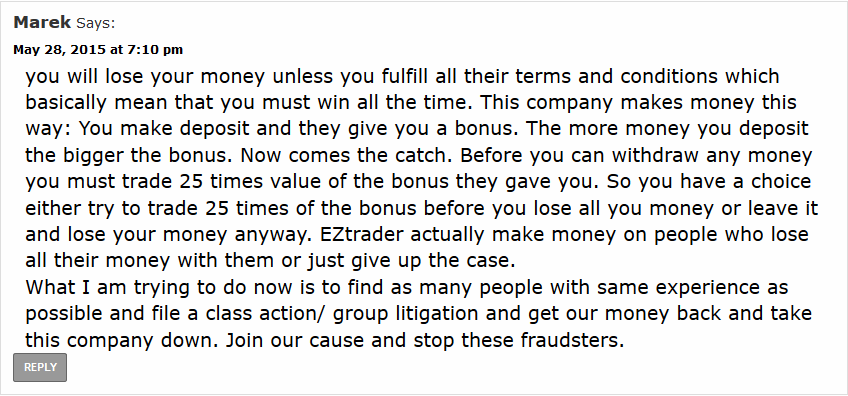 Goodbye 2015 – Hello 2016! And We're Still Here!
That's about it guys. Do you agree with our list? Did we miss any scammers? Let us know in the comments. To all the bad apples that appeared in this list: I hope we don't see you again in 2016, I hope you change your ways and start operating like real professionals. Otherwise, people will stop giving you their money… probably… hopefully.